Call Today
(330) 240-0422

Strong

Simple

Safe

Affordable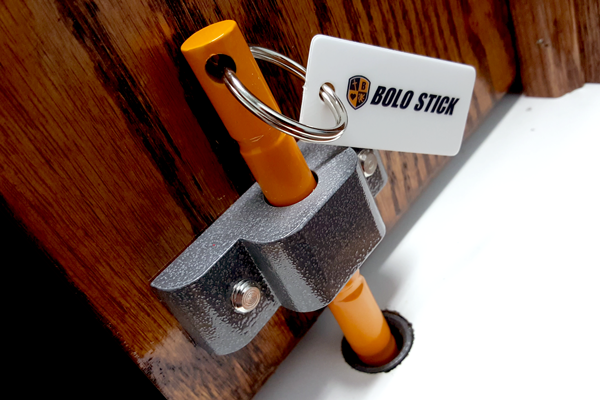 Bolo Stick - The Idea that saves lives
The United States averages 20 Active Shooter incidents annually in Schools, Churches, and Business locations - FBI
Why use our door security hardware?
BOLO STICK is a strong, simple, safe, and affordable door barricade device. It is designed to be used in defense of human lives when the lockdown of rooms is necessary to protect against unwanted threats and armed intruders.

Bolo Stick can protect:
CHURCHES
RESTAURANTS
SCHOOLS
GOVERNMENT
BUILDINGS
WORKPLACE
---
Refer the Bolo Stick door barricade device to your employer or decision maker for your group.
Strong
The Bolo Stick door reinforcement has been independently tested and rated to resist forces in excess of 4,200 pounds, that's more than 2 tons! Solid steel components make Bolo Stick an unbeatable force in keeping out active threats to classrooms, offices, or homes.
Simple
Bolo Stick has no mechanical parts that can become defective. The one-step round hole/round peg philosophy eliminates the need for fine motor skills under stress. Our door barricade device does not require any special knowledge to operate and has universal mounting for inward or outward swinging doors. Installs in minutes.
Safe
Bolo Stick is a temporary, easily deployed door barricade device which does not obstruct a room's egress. It is easy to operate and can be removed without a key or special knowledge. Its low attachment point on doors makes it more resistant to an applied force and more difficult to become disengaged by an unwanted intruder.
Affordable
Bolo Stick door barricades are affordably priced at just $59 per unit with no minimum quantity purchase required. We understand the importance of staying within your budget and selecting a high-quality product to meet your needs. Visit our FAQ page to see the value of your investment in Bolo Stick Door Barricades. We can accept all major credit cards as payment.